July 20, 2020
During the recent 2020 Asia Blockchain Summit, Pixelmatic CEO and Blockstream CSO Samson Mow had the opportunity to gift legendary Canadian astronaut Col. Chris Hadfield his first Bitcoin from space, through the Blockstream satellite. This event marked the first time ever that a Bitcoin transaction originated from space - and sent to an astronaut nonetheless!
For executing this particular transaction, Samson and the team at Blockstream customized their service so that the transaction was sent from a teleport to the Blockstream satellites in geosynchronous orbit (Telstar 11N, Galaxy 18, Eutelsat 113), which then broadcast to users that relayed the transaction to the Bitcoin network via terrestrial internet. Via this process, Samson was able to send $100 USD worth of Bitcoin to Col. Chris Hadfield's Blockstream Green wallet. The entire transaction was performed live during the Asia Blockchain Summit conference livestream, and marks the first time a commander of the International Space Station has received bitcoin!
Col. Chris Hadfield
Colonel Chris Hadfield is a retired Canadian astronaut and former fighter pilot for the Royal Canadian Air Force. He is the first Canadian to have ever walked in space, and he served as a commander for the International Space Station.
As a part of Expedition 35 to the ISS, Hadfield was responsible for a crew of five astronauts and helped to run dozens of scientific experiments dealing with the impact of low gravity on human biology. He gained global popularity during this mission by chronicling life aboard the space station and taking pictures of the Earth and posting them on various social media platforms to a large following of people around the world. He also recorded music during his free time on Expedition 35, most noticeably performing a cover of David Bowie's "Space Oddity" which went viral on YouTube, even triggering a debate regarding the legality of publicly performing a copyrighted piece of music while in Earth orbit.
First Bitcoin Sent From Space
Normally, Blockstream Satellite will send all transactions in the Bitcoin mempool up for broadcast, so that people around the globe can sync with the Bitcoin network even in the absence of an internet connection. For this particular transaction however, customizations were done so that the transaction originated from space exclusively. Samson received Chris Hadfield's Bitcoin address, which he used to construct a raw transaction that was then sent from a Blockstream teleport (a ground based station that communicates with satellites) up to 3 Blockstream satellites in orbit, approximately 35,000 km away from the ground!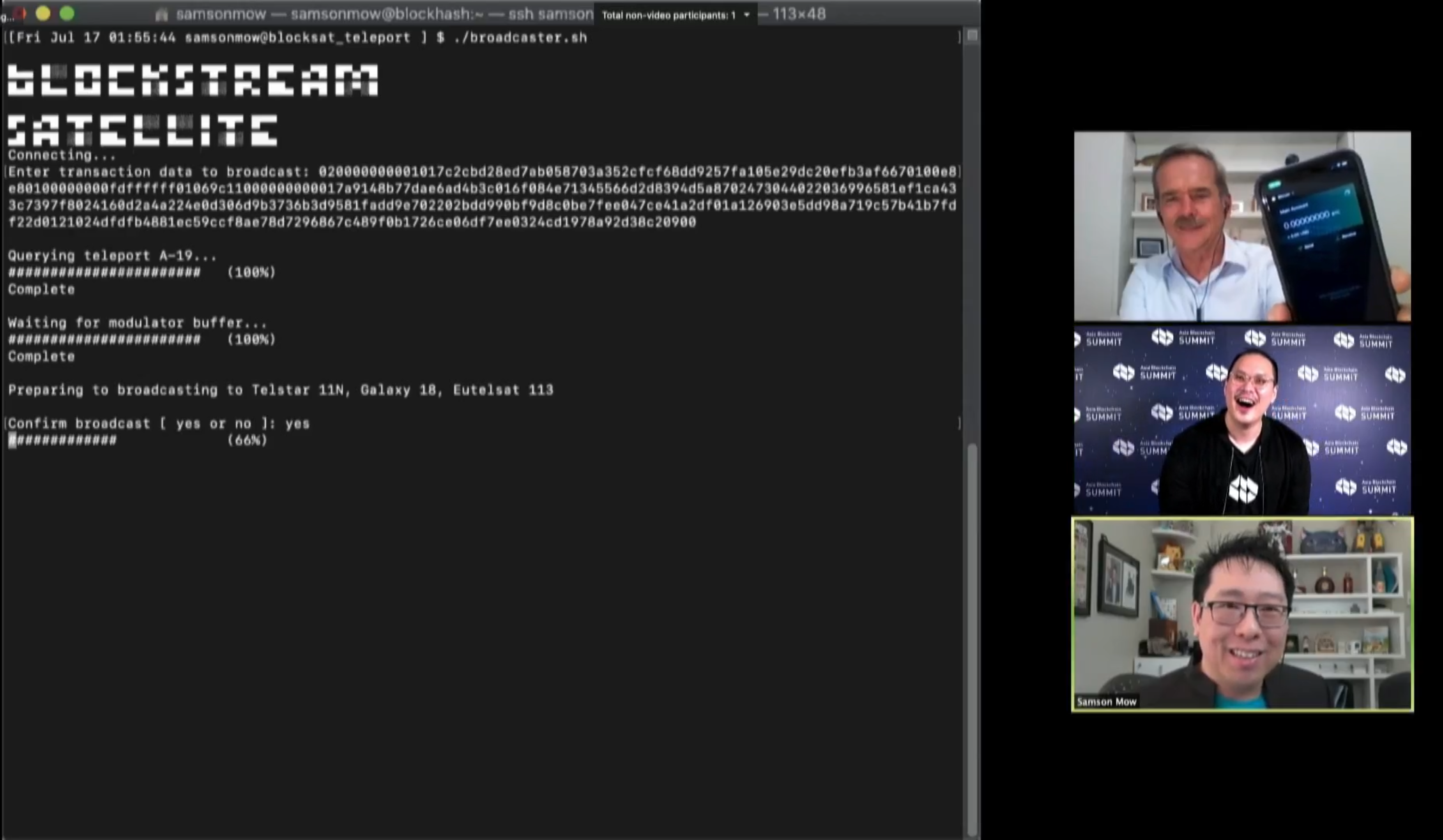 The satellites subsequently broadcasted the transaction to Blockstream Satellite users across several continents, who then relayed the transaction to the Bitcoin network over terrestrial internet. The transaction first appeared in a block explorer, before arriving in Chris Hadfield's Bitcoin wallet.
Upon receiving the Bitcoin in his wallet, Chris Hadfield was visibly excited and described the experience as "magical."